Before starting out you'll want to know are online businesses profitable. Profitability as Kyle explains is a shortcut to understanding whether or not the business idea you have is a goer. Luckily for you, if an online business what you're wanting to build, you'll find the two big cost benefits exciting.
Most people wouldn't think of the word cost and immediately think of benefits. Instead the thoughts likely to be – argh, bills! But when comparing offline businesses costs to online businesses costs – there are serious benefits to be had.
Online businesses only
To illustrate the example, in this article I won't be dealing with offline businesses that use online tools and vice versa. Think Cadburys Dairy Milk using Facebook to Advertise. And ASOS using offline distribution centres.
Instead, I'll focus on a pure 'out and out' online business. The best-case example of this is an online digital product. Once you've created the digital product you can sell it again and again without increasing costs in kind.
Let's say you've created a video course on how to sleep train a baby (I purchased one very recently so it's top of mind). It happened to cost you £1,000 to get it filmed, edited and packaged up ready to sell online. Regardless of whether you sell 10 or 100. Your costs do not go up.
Whereas an offline business selling 'live in person' baby sleep training will experience higher costs as sales increase. Need more staff, additional premises, higher utility bills (the list goes on).
With this big difference in mind, we can next look at how are online businesses profitable.
Profitable by keeping costs down
Online businesses benefit from being able to keep costs down. Unlike offline businesses, it's actually easy to pull off. So don't worry. You won't have to manage staff pay rises, negotiate rent, be subject to fuel prices (the list goes on).
In fact, you don't have to do much. Because by deciding to build an online business you'll benefit from low costs by default.
Why? Because the internet has made what used to be expensive, very affordable.
Here are two examples of how the internet has made starting/running your online businesses affordable. In turn, keeping it profitable.
1. User online marketplaces to stay profitable
In the past, if you wanted to have a website built, you'd likely find someone at your local business networking meet. This to a certain extent is still going on. If you're familiar with the BNI, you'll know they'd only allow one person at each 'chapter' (what they call a local meetup) to represent a type of business. So in your local 'chapter', there'd only be one website developer, one carpenter, one financial adviser etc. What this does on a local level is to keep supply low and demand high. This means you'll pay a pretty penny for your website. And this means costs!
This, I don't like. And neither should you. Because as an aspiring online business owner you know (because we've told you) that you can keep costs low.
Thanks to the internet doing the opposite of BNI we can achieve this by tapping into online marketplaces. Instead of you going to your local networking meet and talking to ONE website developer. You can pop onto the internet and talk to THOUSANDS of website developers. Not only website developers, but you can find literally any service your online business will need.
You'll be well versed in this by now but just to be sure. This means supply is high. Meaning you'll pay a lot less for our website.
"Yeah but…what about the quality, the service, the…"
Don't worry. You've got THOUSANDS of specialised professionals to choose from. Often with hundreds of reviews from recent customers.
Where specifically do you need to go to access these skilled professionals? Fiver and Upwork. Both online marketplaces with their own quirks:
I personally use Fiver's online market place a lot. It's the place to go if you're on a tight budget and need a task completed quick. I've used it for logo designs, website builds, landing page builds, SEO research, IT projects, data projects (I'm sure there were others). Here's an example of what they offer within their business operations category: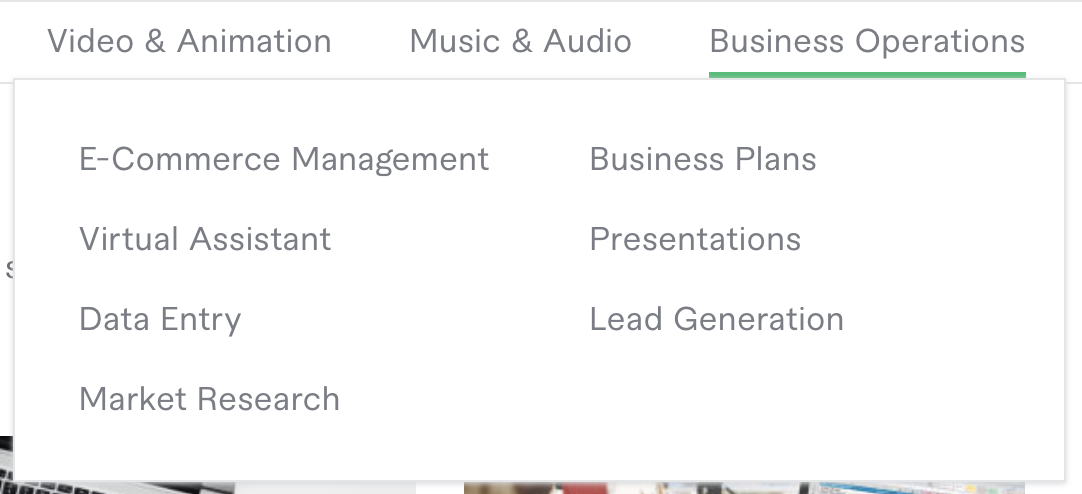 I haven't used Upwork a great deal but this is where you'll find independent talent who'll you'll want to keep around for the medium to long term. Often highly skilled within their specialised area. You'll likely pay more here than on Fiver. But you'll also be getting higher-level business support.
So now we have the go-to people in order to keep our costs down and profits high. Let's look at the second way in which we can keep costs down and help answer the question: are online businesses profitable.
2. Use online tools to stay profitable
The tools available to us as online businesses owners are incredible. They not only make our life easy but they make our life profitable!
A quick disclaimer before we start. They'll be a few of you amongst us who love tools! They'll sign up for every tool which promises to make their life easier, more convenient and stress-free. And then never use them. How do I know this? Because I'm one of those people. Luckily I'm not the only one in our businesses so I have to check before I buy! Anyway, I'm about to list a whole bunch of tools that you must not immediately buy. These tools are here to help you, but only when you need them and if you'll need to use them. If you stack these tools because they hooked you with their awesome features list, then you'll be stacking costs, which has the opposite outcome we're aiming for.
Ok disclaimer over. Now let's talk about tools that have transformed the way we do online business.
When the internet came to pass and online businesses started to boom. There were some very clever people who understood that most businesses face the same challenges. And by solving those challenges they could get a lot of customers. Because they've got a lot of customers who want the same solution they could charge them less.
As an aspiring online business owner, you also benefit from these low-cost solutions.
Online tools: a quick list
In no particular order here are tools you can to keep your costs low and your online business profitable:
To be honest the list is endless. There are tools to serve every part of your Online Business. The purpose at this stage however is not to start researching tools (as fun as it may be). That's not going to help you make money.
Instead, the purpose is to become aware that there are tools out there that can bring the cost of starting/operating your business right down.
Heads up, if you just ignored exactly what I said (I don't blame you, tools are fun or you may be at the stage where you need tools). Please don't sign up to the first one on that list. Go understand which is the right one for you. Look at their competitors. And if you're kind enough to sign up via the link above. You're an amazing person. However, I haven't set up any affiliate links because I want you to start building your online business as lean as possible first. So no affiliate link disclaimer required – yay!
Summary: Yes online businesses can be profitable
If your focus is to create an 'out an out' online business where your costs don't scale as your sales do. Then the big learning you're taking away is to leverage online marketplaces (people) and online tools (software) to keep your costs low. In turn, this will increase profitability.
So you can be rest assured when wondering: are online businesses profitable.