Branding content and content creation go hand in hand but what often lets people down is consistency.
Typically an online business owner or operator will face either one of two branding and content challenges:
They either think way too much about branding and end up not creating content.
Or
They create all sorts of content without any consideration to branding.
If I were to choose a lesser of two evils, I'd select the second because, ultimately, what matters most is creating content.
Creating content trumps everything else. Because, at minimum, there is something out in the world which will help you attract customers through content marketing.
The inverse of this is there is no content out globally, and your business is, in essence, invisible.
This being said, to enhance your content and get the maximum benefit from the content you are creating – you've got to consider branding.
What is banding?
I like this definition by 99Designs:
Branding is the marketing practise of actively shaping your brand. … Branding is what your business needs to break through the clutter and grab your ideal customer's attention. It's what transforms first-time buyers into lifetime customers and turns an indifferent audience into brand evangelists.
To dig a bit deeper, we can think of branding as helping your business show up in different ways:
You can show up literally as what someone sees.
Think; logo, colour palette, imagery, icons, graphics, website, font.
In addition, you can show up as what someone feels.
Once they've interacted with your brand, you'll leave with them a lasting feeling.
This feeling comes from various stages within your business business. When looking at our BATON framework, there'll be multiple touchpoints where a customer can be left with a lasting impression of who you are.
For the context of today's post, we'll keep focusing on content creation.
Ultimately, in the customer's eyes, your brand is what they remember when they think of you. This memory will be in the form of a thought, feeling or both.
With this being said, even though I'm banging on about branding, the next section is important.
Don't overthink it
The reality is your customer will have a lot to take in:
Brand
Message
Colour
Logo
Features
Benefits
Social Proof
Price
Add to that. They'll be processing other information – day to day life, competition, work – the list of things we do in a day is endless.
So when starting, it's important to focus on simplifying your message and getting across exactly what you do and how you can help them.
To explain what I mean, let's take a look at YouTube's logo: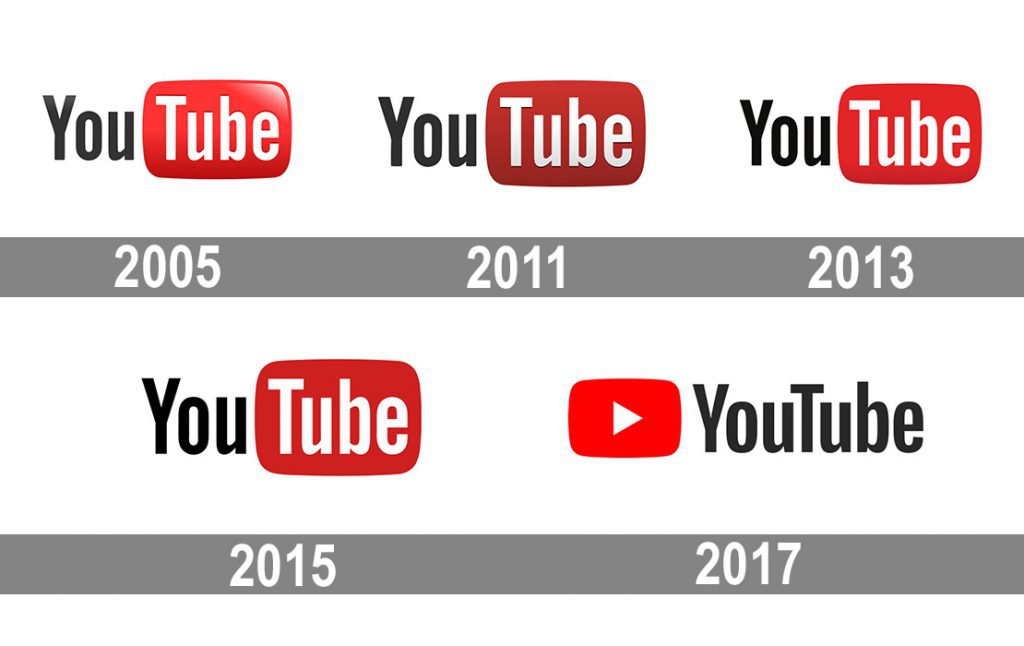 Here you can see the idea of keeping it simple and evolving. What else we can learn from YouTube branding is how they've only made incremental changes over 10 years. Without changing the core of who they are and how they show up.
Ironically the most drastic logo/brand change was made in 2017. Still, by this point, YouTube was the dominant player in the market and having a standalone icon became important (iconic red play button). Essentially to keep up with changing times.
So if the aim is to keep things simple, what's the underlying action?
Stay consistent
Long-standing research in advertising tells us that it takes three to seven impressions before a message registers. A frequency of fewer than three messages is a waste of money. But a frequency beyond seven continues to have a cumulative benefit; diminishing returns doesn't set in for a good while.
This research is crazy but telling. In other words, you'll have to show up greater than 7 times to even register in someone's memory. The more you show up, the better.
This means it's no good showing up 5 times with one form of branding, then switching it all out on the sixth. By the way, if you're drastically going to overhaul your brand once, you may do it again if you feel like it isn't working. This statistic shows that the reason it may not be working is that you just haven't shown up enough.
So whether it's visual, physical words, audio or video.
Say consistent.
For example, I'm on episode 50+ of my podcast, and it's been so tempting to change the look, colour, feel of the podcast thumbnail.
Thankfully (in this case), the business voice in my head is louder. This means so far; I've managed to leave it alone.
The reason being – our listeners remember the brand, name, colours, and the feeling seeing this image evokes. Plus, I don't want to make it difficult for them to find the show!
Summary
If you're struggling to work out what branding to align your content creation with, hopefully, the message is now clear.
Or at least you've started thinking about branding for your content creation. Remember:
Have a form of branding because its the way your audience will see and feel you
Please keep it simple
Once you've established a brand, make incremental changes – avoid an overhaul if you can
Once you've established this, a byproduct will be increased sales because you've paired branding content and content creation.